Village Entrance....Oora gutta

The historical place at Ooragutta..we can see the evidences of god here
(The marks around Naama)
Raamalayam
at Ooragutta
Hanuman Temple
at Ooragutta
Devotees at Hanuman Temple
Oora cheruvu
next to
Ooragutta
Brother with flowers...welcoming you all to annaram
Abhinav...collecting flowers for Diwali Pooja(Nomu)...
Back side of My home
(Planning for light house)
Trekking down
Slow and steady....


yes, reached at last....
one side view
Got it!!!
Natures gift....seetaphal....so sweeeeeeet
KaushiK Planning to push it down :)
Naaga Devata(For that they named it as "Nagula Gutta")
Raghuram :: The author of My Annaram Blog


Great n happy to say
all the time "I
am from great annaram"
Trekking Troup with Narayan Reddy,
Laxma Reddy
, Dhamodar Reddy
Top of Nagulagutta......from this view point we can view 10 villages around and manair river.
Annaram is situated near Manakondoor of Karimnagar district.
Agriculture is the back bone of the village.
Annaram place is popular\famous for Hanuman Temple surrounded with a hill(Oora Gutta) and lake(Oora Cheruvu) on both the sides.It is a beautiful place to enjoy in spiritual as well as natural atmosphere.
During the occasions at home and festivals people will offer prayers to the Lord Hanuman with gatherings.
People going on the way to karimnagar through Annaram, will take rest for few minutes at temple premises.
A traditional aspect of this scenario is that people feel their prayer to God would fulfill with few minutes of stay in temple premises.
Click here to view Annaram in google map
In annaram 3 lakes ( Oora Cheruvu, Nagula Cheruvu, Aaredu Cheruvu),
2 Hills ( Oora Gutta, Nagula Gutta) all around the village.
Oora gutta is comes at the entrance of annaram village. Nagula gutta is the border between Annaram and lalithapuram,dhampally.
Oora cheruvu is next to the Oora gutta, Nagula cheruvu is next to Nagula gutta and Aaredu cheruvu is near by Govt.High School.
Nagulla Gutta(hill) is an historical place here about which is been mentioned in our epics is a great treat for adventurous people.
2 lakes are next to the hills and the other is next to high school and green fields.
Every where you go you feel its a beautiful place to stay.
No pollution, no noise of vehicles.
You believe it are not, festivals like Dasara are being celebrated with no police security. It shows the organized way of living in Annaram.
People of all communities live and contribute some or other to the growth of the village.
In Annaram you found many people settled in Teaching, Police services,Engineer,Business as profession.
You found Annaram people in various countries.
ANNARAM has a good history,present and also we can expect the best practice in traditional, professional wisdom in future.
40 years back a Doctor from Annaram went to LONDON.
and the remaining doing business and some are owning the firms.
Very soon i am going to introduce each individuals in this blog. I am in a plan of their photo session :)
BEAUTY OF INDIAN FOLK IN B4U:
First i would like to and proud to introduce famous Artist PT Reddy, who born,brought up and lived in a artistic village Annaram.
Great Artist PT Reddy is From Annaram
P. T. Reddy, Neo-Tantrism, and modern art in India.
Articulating the Modern Neo-Tantrism and the Art of P.T. Reddy




About PT Reddy(Pakala Tirumal Reddy):




====================================




Several bad accidents have happened to people who stand on their heads in ecstasy over his canvases, and some even to those who do so just to understand art better. P T Reddy's art is known to have that effect, on both the connoisseurs and the greens.





Pakala Thirumal Reddy was a man of many shades, working tirelessly over a career spanning 60 years - on wood (bought from the local

mandis

) and canvas, and using oil paints, water colors and sketch pens. Over the years, he produced more than 3,000 paintings, the majority of which are well-preserved at Sudharma.





Sudharma looks rickety, with its

Hawa-Mahal

like balconies facing the road. But the fact that they have held their sway since 1972 is indication enough of the tenacity of the man behind the scenes. Decades saw him building the collection that now graces the 3 floors of the building, and then some more.


Sudharma - P T Reddy's Art Museum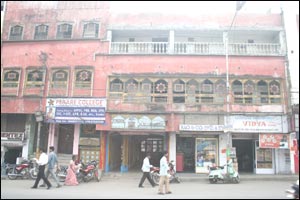 3-4-574, Narayanaguda Main Road Opposite INTUC, Narayanaguda, Hyderabad - 500029
Telephone: 2756-1866, 94400-57048, 94406-52340




A major part of his work was done during the tumultuous freedom struggle, and then during the muscle-flexing that occurred while the Indian Diaspora was building its own identity. His versatility and genius is reflected in the diverse themes, medium and colors that he used to gloss his art with.





After his demise, wife Laxmi continues to keep all his work, which includes statuettes, carved figurines, trophies and some beautifully executed pillars and corners, all done in wood. Equally interesting are his paintings, sometimes with abstract and tantric representations of Lord Ganesha, and sometimes very live and vibrant, with rural scenes and portraits. The Kiss (a series of erotic drawings) and numerous other oils and sketches exploring eroticism are especially well-acclaimed.





Besides these, the museum's collection includes paintings of his contemporary artists like F N Souza, Mohan Samant and K S Kulkarni, and also younger artistes like Laxma Goud, D L N Reddy, Vaikuntam and many others.





Established in 1972 and functional till Reddy's death in 1996, the museum is not open to the casual surfer. For people genuinely interested in his work, and for those who keep an academic interest, Laxmi Reddy is only too eager to oblige. The browsing is free, but you have to book a prior appointment. With the government's attempts to shift the works of art to the

Salar Jung Museum

, and Reddy's demands of an independent place and a sustainable stipend, the museum might well stay where it is. But let's hope it gets back into the mainstream of art soon enough.




=============================================================
Annaram famous Sri Anjaneya Temple located next to the bus stand , has an interesting history.

I would like to thank all of them who supported n supporting to update this blog.
****************************************